Saint-Jean-Cap-Ferrat: a Mediterranean Eden
The history of a Place is often influenced by its geographical location and by the natural environment.
This is the case for the town of Saint-Jean-Cap-Ferrat.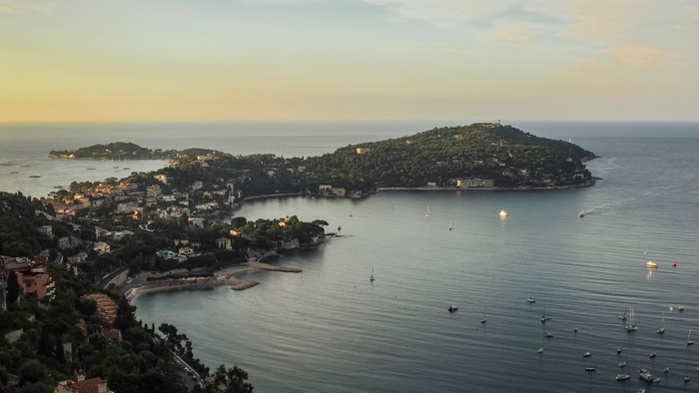 The so-called presqu'île de Cap-Ferrat is a small peninsula situated in Southern France, not far from the French-Italian border. Neither entirely mainland nor entirely an island, this stretch of land is characterized by a lush vegetation and a Mediterranean climate.
Due to its tranquillity and its out-of-the-World atmosphere, this former fishing village was chosen during the 6th century as the ideal location for retirement by Saint Sospis, a French monk of Egyptian origins.
The French monk was so well known that a one point the entire peninsula was named after him: Cap-Saint-Sospir. His presence in the Region was crucial for the locals on more than one occasion, notably when he forewarned the population of the imminent incursion of the Lombards.
Protected by the French Alps from the north and embraced by the sea from the south, this boat-shaped land seems to be standing in the Mediterranean as a guardian to potential invaders and conquerors.
Indeed, the naturally strategic location made Saint-Jean-Cap-Ferrat a much sought after piece of land.
It was seen as an object of desire by the nearby tribes during the Middle Age (Lombards and Saracens, among others), used as bargain chip by the ruling families during the Renaissance, and as part of major treaties among States until the 19th century.
It was at that time in fact, that Saint-Jean-Cap-Ferrat, which was until then part of the Kingdom of Sardinia, was ceded to France, along with Nice and Savoy, as part of a treaty that led to the unification of Italy.
Even after having put weapons to rest and treaties into the drawers, Saint-Jean-Cap-Ferrat still holds its charm. Now-days in fact, the ones who fall under the spell of its fascination are attracted more by the quietness, by the natural beauty and by the temperate climate than by strategic or political reasons.
The modern visitors of Cap-Ferrat, mostly representative of the wealthiest 1% of people, are in search of what originally brought the monk Saint Sospis to this little corner of the Mediterranean.